Fired by their desire to share their Christian faith, the female missionaries of the American Board of Commissioners for Foreign Missions for the Sandwich Islands abandoned all they had known to live in a far-off foreign land. To meet the board's requirements that missionaries be married, some were newly wed to men they had just met.
Arrival To Hawaii
Once in Hawai'i, however, their evangelical fervor had to find its way around a nineteenth-century housewife's many chores and duties, multiplied by the never-ending flow of guests who gathered at their tables.
The first of these Calvinist wahine to arrive on Maui, Harriet Stewart and Clarissa
Richards, were brought to Lahaina by Queen Keopuolani in 1823, with their husbands, Charles Stewart and William Richards. Charlotte Baldwin, who came to Maui in 1835, lived and worked in Lahaina for 33 years with her husband, Dr. Dwight Baldwin.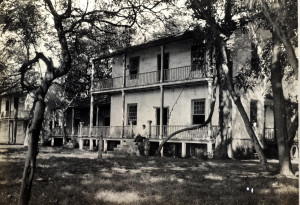 Early Beginnings On The Island
After a five-month sea journey around Cape Horn, these young  missionary women often found themselves already pregnant with the first of many babies. In the early days, they kept house, gave birth, and reared children in grass houses with dirt floors.
When a violent storm pounded their seaside hut, Harriet Stewart sat for hours clutching her baby, "watching the motion of the rafters in the contentions of the wind―ready to make an escape with him from the ruins of our cabin," her husband wrote.
A Different Life
A few years later, Clarissa Richards hid in the cellar as five cannon shots landed near their house, fired by sailors angry about the High Chief Hoapili's demand that Hawaiian women on their ship be returned to shore.
For more than three decades, Charlotte Baldwin played hostess to as many as twenty guests on any given day, from whaling-ship captains and their families to visiting scientists, despite her ongoing asthma attacks. She bore eight children, but lost two little ones before their third birthdays.
Plenty Of Hard Work
The cares and labor that filled the days of these and other Maui missionary women surely distracted them and probably exhausted them. But it did not dim their zeal to teach and evangelize. In between supporting hard-pressed husbands in their own multi-faceted jobs and chiseling some flour from a barrel that had been drenched in saltwater on the journey from New England, the missionary women managed to fit in prayer sessions, hymn singing, Bible study, and sewing classes with female parishioners. They taught the 3Rs to both their congregations and their own offspring.
And then, when their children needed higher education, these mothers waved farewell as their young ones sailed away to Honolulu or even New England.